Anthem soars to top of EMEAA charts
Yakuza Kiwami's PC release bumps it to No. 5 on digital charts, while Take-Two's digital reporting takes a week off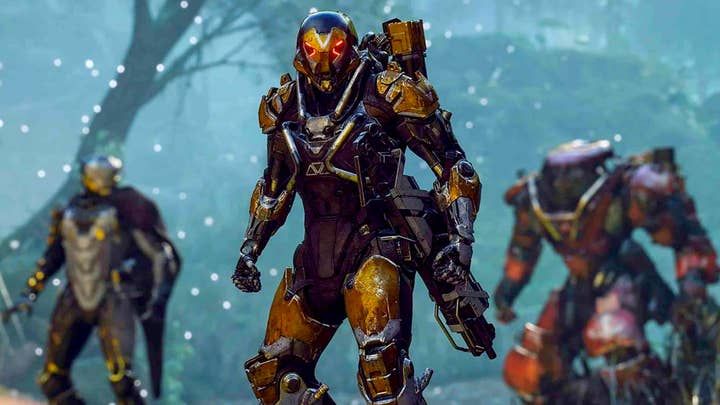 Not only did Anthem top UK charts in its debut week, it also saw similar success in the rest of Europe, the Middle East, Asia and Africa (EMEAA) as it debuted at No.1 for the collective regions.
Sales of Anthem were strongest on PS4, but on the unit breakdown chart, Xbox One was right behind PS4 at No.2. Reported PC sales were lower at No. 37, though this is likely due to the fact that EA only provides digital data for PSN and Xbox One, and thus Origin sales aren't included.
It's also worth noting that unusually, Take-Two Interactive did not contribute digital data to the charts this week. Both Grand Theft Auto V and Red Dead Redemption II still appeared in the Top 10 unit combined chart below due to strong physical sales (and multiple 2K games appeared further down), but were entirely absent from the digital charts.
Interestingly, neither game dropped especially far down the rankings from last week as a result of the removed digital sales - Grand Theft Auto V fell three positions to No. 10, and Red Dead Redemption II fell only one, to No. 5.
Finally, though it didn't manage to break into the top 10, Yakuza Kiwami jumped from No. 768 all the way to No. 5 on the EMEAA digital sales chart due to its release on PC.
Here's the Top 10 best-selling games by units (combined digital and physical) in EMEAA for the week ending February 24:
| Last Week | This Week | Title |
| --- | --- | --- |
| New Entry | 1 | Anthem |
| 1 | 2 | Far Cry New Dawn |
| 5 | 3 | FIFA 19 |
| 3 | 4 | Metro Exodus |
| 5 | 4 | Red Dead Redemption 2 |
| 2 | 6 | Jump Force |
| 8 | 7 | New Super Mario Bros. U Deluxe |
| 6 | 8 | Tom Clancy's Rainbow Six Siege |
| 11 | 9 | Mario Kart 8 Deluxe |
| 7 | 10 | Grand Theft Auto V |
Participating companies in the GSD charts (run by B2boost on behalf of ISFE) are Activision Blizzard, Bandai Namco, Capcom, Codemasters, EA, Focus Home Interactive, Koch Media, Microsoft, Milestone, Paradox, Sega, Sony, Square Enix, Ubisoft and Warner Bros.
Digital data includes games sold in Australia, Austria, Bahrain, Belgium, Bulgaria, Croatia, Cyprus, Czech Republic, Denmark, Finland, France, Germany, Great Britain, Greece, Hungary, Iceland, India, Ireland, Israel, Italy, Kuwait Lebanon, Luxembourg, Malta, Netherlands, New Zealand, Norway, Oman, Poland, Portugal, Qatar, Romania, Russia, Saudi Arabia, Slovakia, Slovenia, South Africa, Spain, Sweden, Switzerland, Turkey, Ukraine and UAE.
Physical data includes all games, but only those sold in Belgium, Denmark, Finland, France, Great Britain, Italy, Netherlands, Norway, Poland, Portugal, Spain, Sweden and Switzerland.