8-Person BrainWars team hits 10m downloads in 8 months
Global approach reaps major rewards for ambitious TransLimit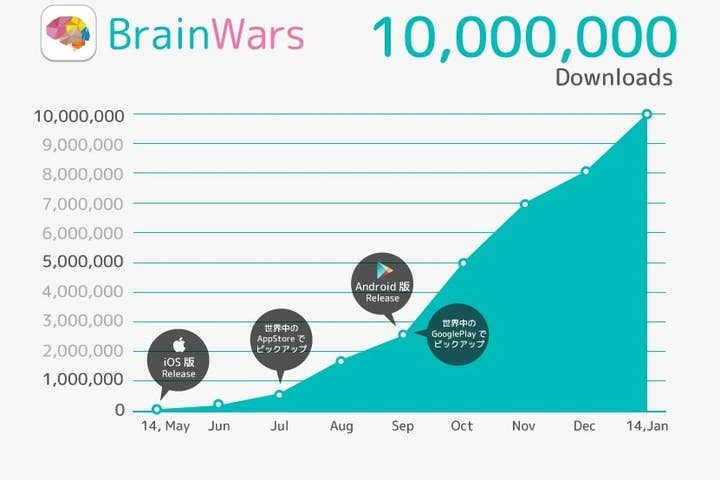 BrainWars, a one-on-one brain-training quiz app from Japanese studio Translimit, has hit a 10 million download milestone just eight months after release, the company has revealed. The announcement comes a year to the day after the company was founded.
The studio, with just eight full-time employees, celebrated the achievement on its official blog, revealing some interesting insights into the make up of the game's audience. Unlike many successful Japanese mobile apps, the free-to-play BrainWars has seen enormous global success rather than having a local focus. In fact, just 4.3 per cent of its downloads are domestic, with a massive 25.4 per cent coming from the US.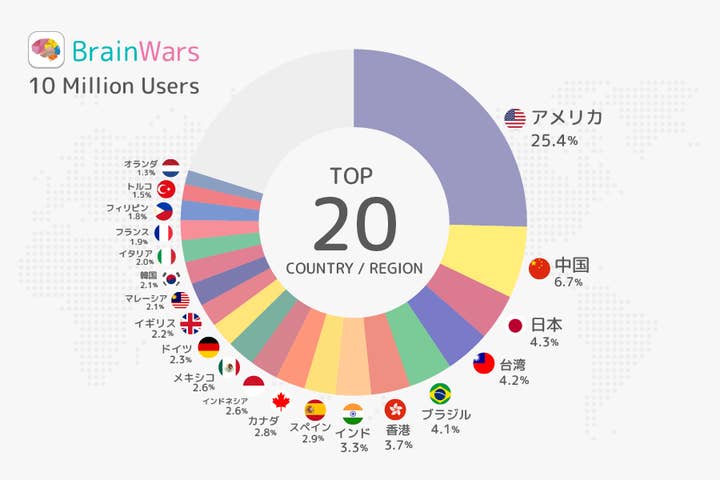 CEO and founder Hiroki Takaba, who previously worked for the CyberAgent Group, told TechinAsia that he has no plans to slow down the game's development, with a single-player mode in the works as part of a major update in February. On top of that, and despite an understandable long-term commitment to BrainWars, Takaba says his team already has two other titles on the slate.
"In the summer, we will release one that is being co-developed with Line, with which we have a business partnership. The other will be an original title for release in the fall or winter. We minimize the effort put into operations by developing along the principle of 'Make something once, make it last forever.'"
The global success of BrainWars isn't just a result of clever marketing or distribution, Takaba was inspired by his own experiences with QuizUp, another enormously successful quickfire quiz game. Takaba was a big fan, but as a non-native English speaker, he found that he was wasting a large portion of each question's 10-second time limit trying to understand the question. Recognising that barrier to international success, he decided to make BrainWars' questions much more visual, relying instead on the international language of numbers and logic.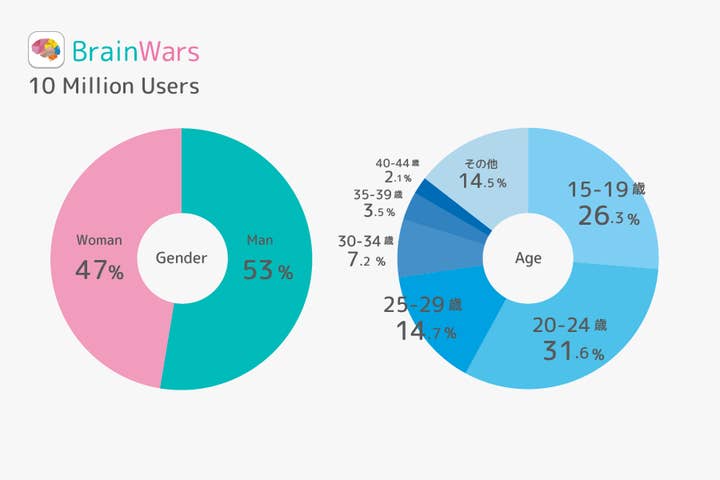 "It was clear that non-verbal communication is the key in catering to a global audience," Takaba told TechinAsia in a previous interview. "With that in mind, we decided to go with brain training and added features such as global rankings to bring the genre more in-line with the current smartphone generation.
"You can't make games for overseas markets like you would for Japan. Basing content, revenue models and pricing on traditional Japanese models inevitably leads to failure. For example, when evaluating pricing, it's important to consider that overseas users spend significantly less money on games than Japanese users. Nevertheless, it's not very often that you get to be involved in overseas ventures so for me the experience was invaluable."