10 Years Ago This Month - March 2006
Lionhead nearly acquired by Ubisoft, Iwata keynotes GDC in San Jose, and we reveal Sony's PlayStation Now plans about nine years too early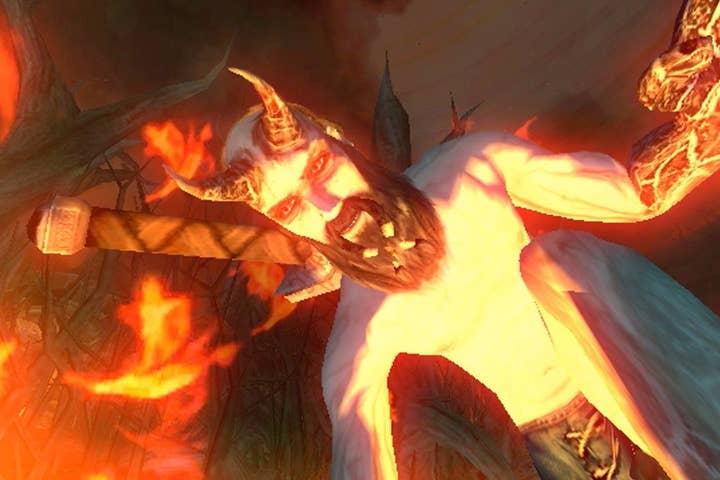 The games industry moves pretty fast, and there's a tendency for all involved to look constantly to what's next without so much worrying about what came before. That said, even an industry so entrenched in the now can learn from its past. So to refresh our collective memory and perhaps offer some perspective on our field's history, GamesIndustry.biz will run a monthly feature highlighting happenings in gaming from exactly a decade ago.
The Lionhead Sleeps Tonight
Earlier this week, Microsoft announced the impending closure of Lionhead Studios, the developer behind the Fable franchise. If one were to summarize the Internet's collective reaction to the closure, the general sentiments would be, "Sad news, great studio, Microsoft is the worst." And yes, you could make a pretty sound argument for all of that.
But around this time in 2006, if you had told the developers what the fate of the studio was going to be, they might have taken that with a smile on their face. Exactly 10 years and one day before Lionhead's closure was announced, the studio axed 50 people and cancelled multiple projects after its latest PC games--The Movies and Black & White 2--posted disappointing sales figures. Studio co-founder Peter Molyneux was said to be on the hunt for a buyer. Later in the month, at the Game Developers Conference in San Jose (yup, San Jose), the scuttlebutt was that Microsoft was closing in on a deal to acquire Lionhead, having edged out a furious Ubisoft, who "thought they had it in the bag."
So as much as we might mourn Lionhead's fate as a Microsoft-owned studio who spent a decade churning out a handful of similar games in one franchise, is the idea of an Ubisoft-owned Lionhead who spent 10 years churning out 10 games in one franchise any more appealing?
The Golden Age of E3
Much like Lionhead, there's been a lot of doom and gloom surrounding the Electronic Entertainment Expo of late, what with the biggest party in the console gaming world getting back "decline with regrets" RSVPs from Electronic Arts, Activision, Wargaming, and Disney Interactive. Unlike Lionhead, the show was booming 10 years ago, so much so that they announced in March that the show floor had been completely sold out. And not just the West and South Halls that are used these days; they were packing exhibitors into Petree Hall and even the part-time parking garage Kentia Hall as well.
And as if that weren't enough, E3 also hosted a two-day business conference and workshop program, full of GDC-like talks and panels covering all the big issues facing the industry. The last time E3 had anything of that sort was in 2008, when Texas governor and future presidential candidate Rick Perry delivered the show's keynote address to about two dozen people in a cavernous 1,000-seat auditorium.
Getting Ahead of Ourselves
Sometimes you make a prediction about the future and you get everything right except the timeline. In March of 2006, Electronic Arts' European VP of sales Dr. Jens Uwe Intat told GamesIndustry.biz that downloadable entertainment media would completely replace physical within a decade, and "CDs, DVDs and boxed games will be as antiquated as cassette tapes and vinyl records." He also looked ahead and saw that this switch to digital would lead to the rise of complementary business models that add supplemental revenue to the up-front payment model that was the standard back then.
Granted, these sorts of insights were well on their way to becoming conventional wisdom at the time. That same month, GamesIndustry.biz cited development sources close to Sony Computer Entertainment with the first details of the company's massive push into digital distribution. Though it was months before the PS3 would launch (Sony would that month announce that the system was delayed from Spring 2006 into the following November), the company's vision for digital was already clear. Sources said Sony wanted to sell PSone and PS2 games digitally to PS3 owners (which they did), and even tipped us off to the company's plan to stream PS2 titles to PS3 owners, an idea that would only be realized with the PS3 launch of PlayStation Now last May.
How Not to Catch Lightning in a Bottle
Nintendo president Satoru Iwata delivered the keynote address at the 2006 Game Developers Conference. Our proper write-up of the event lives here, but it misses some interesting details that were preserved in our live blog. (Also, 10 years ago this month, live blogs were on the cutting edge of games journalism.) One such detail is an anecdote Iwata gave regarding development of the first Brain Training title for the DS, where he explained that the handwriting recognition technology for Brain Training was created with no real idea of what it would be used for in a game.
While it certainly paid off in that instance (the series had sold more than 5 million copies in Japan by the time Iwata gave his keynote), that approach of creating technology without clear applications can be at least partly blamed for the company's current struggles. The Wii Vitality Sensor, Wii U Game Pad, and even the 3DS' glasses-free 3D screen were all interesting advances that have little, if any, software to justify their existence. In the case of the Vitality Sensor, the lack of compelling software applications is the reason the product was shelved before it actually shipped in the first place.